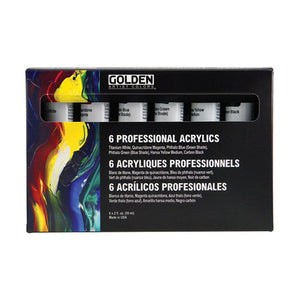 GOLDEN 6 Professional Heavy Body Acrylic Set (
910-0)
Six - 2 fl. oz. / 59 ml Tubes. The 6 GOLDEN Heavy Body Acrylics in this set can provide the foundation for the professional acrylic painter working with heavy body viscosity paint. The GOLDEN Principal Heavy Body set is a more cost-effective way to establish a basic palette, capable of mixing a full range of hues, tints, and shades, that can later be supplemented with the wide selection of GOLDEN Heavy Body color offerings.
The larger tube size gives an ample supply of paint for exploring many mixing and application possibilities.
Includes: Phthalo Blue (Green Shade), Benzimidazolone Yellow Medium, Quinacridone Magenta, Titanium White, Carbon Black, Phthalo Green (Blue Shade), Heavy Body Application Guide.