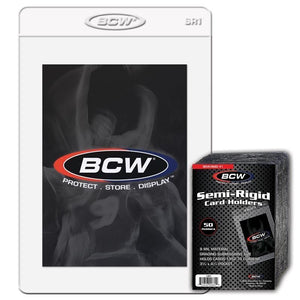 The best graded card submission sleeve in the market. These deluxe holders are a real time saver and offer sturdy protection. They work great when mailing in your cards for grading.
BCW Semi-Rigid Card Holders are made from rigid, stationary-grade PVC. It contains no plasticizers or stearates. Our high quality PVC does not migrate and will not harm your cards.
The #1 Semi Rigid holder is also sized well to protect and hold small personal documents like social security cards, immunization and vaccination cards, mini-diplomas, etc.
Perfect for pre-57 sports cards as well as thick memorabilia cards
Crystal clear
Made of high-quality, rigid PVC
Exterior Dimensions: 3-5/16" X 4-15/16"
Interior Dimensions: 3-3/16" X 4-1/4"
50 Holders per Pack