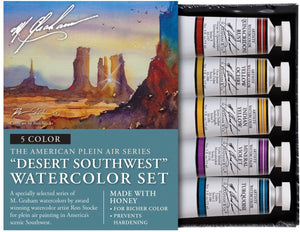 M. Graham & Co. Desert Southwest 5 Color Watercolor Set, 0.5 Fl Oz (15 mL)
This set of 5 M. Graham watercolors is part of their American Plein Air Series. The Desert Southwest set features colors selected by award winning water colorist Ron Stocke to reflect the imagery of the region. 0.5 Oz (15ml) tubes with dense concentrations of quality pigment suspended in a traditional binder of pure gum arabic and blackberry honey to prevent hardening.
COLORS
High Desert Red (Guinacridone Rust)

Desert Floor (Yellow Ochre)

Talavera Ceramic Yellow (Indian Yellow)

Sunset Violet (Mineral Violet)

Jewel of the West (Turquoise)
WATERCOLORS
You're inspired by the world around you — so are our paints.
M. Graham watercolors are made with Northwest blackberry honey, recalling the practice of early artists who drew from nature for their materials as well as their subjects. This traditional base creates willing watercolors ready for your brush and yields even, fluid washes.
Honey also allows for stronger, truer colors. With a complete range of pleasing pigments — from delicate tints to dark, concentrated colors — you'll discover more color possibilities with M. Graham watercolors.
WHY HONEY?
Artists' use of honey in watercolors can be traced back centuries. Today, modern watercolorists are rediscovering the many advantages of honey-based paints. Thanks to honey's natural properties, we can avoid artificial humectants and preservatives in our paints, instead infusing more color. Honey's viscosity offers artists a smooth, easy application. And, because of honey, our watercolors dilute easily—even after months of disuse—and resist hardening on the palette or in the tube.